Becoming a vegan was a long journey for me, quitting all meat but seafood and becoming a pescetarian in April 1996, and then going vegetarian in 2012. I think it was in October or November in 2015 I decided to go "semi vegan", as in eating vegan at home and vegetarian if I went out or visiting people. I failed going "semi vegan" pretty quickly, though, as I guess this opened up my eyes to how the dairy and egg industry actually worked. I wasn't able to close my eyes any more, nor turn my back to the cruelty that I saw. I chose vegan for Christmas/Yule/midwinter (or whatever you want to call it), and lot long after I went fully vegan, both inside and outside my home. I have never regretted that choice.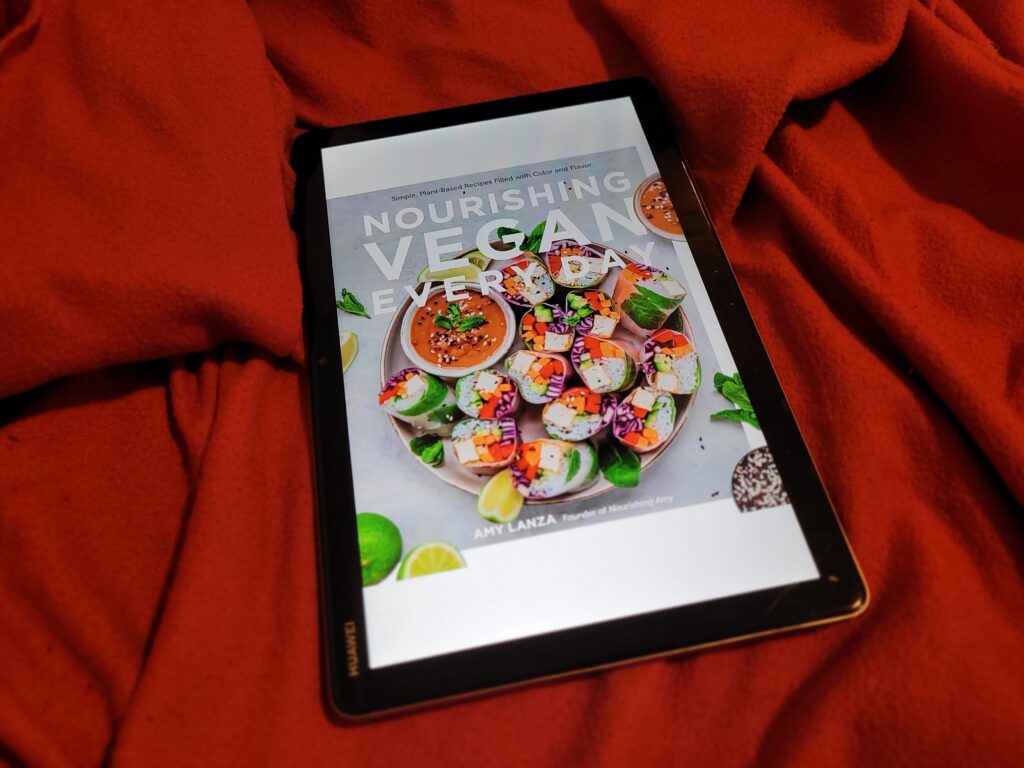 Even though I've been vegan for about seven years now, I had never heard about Nourishing Amy, or Amy Lanza, before. Not until I picked up their new cookbook, Nourishing Vegan Every Day, on NetGalley. I knew instantly that I wanted to have a closer look at this book that NetGalley offered as a "read now", as I love cookbooks. I mainly use them for inspiration, but I'm definitively open to try out a recipe or two (though I feel free to tweak them). The book will be published 3 January 2023.
This cookbook is even good for beginners, with its explanations of some terms in the beginning. Personally, having cooked vegan for many years (even before going vegan myself), I skipped this part. I appreciated the few American-English conversions, though (I didn't know arugula was the same as rocket!)
The book has seven main parts or "chapters": Breakfast, Brunch, Lunch, Dinner, Snacks, Sweets, and Celebrations. For me (a Norwegian), most of the lunch recipes could just as well have been dinners, but that's just me being Norwegian and nitpicking. In general, the recipes are pretty basic, vegan dishes. Nothing wrong with that, and I think it's really good if you're brand new to cooking plant-based food.
One think I'm always worried about when it comes to vegan cookbooks, is if the dinners have no protein. A dinner that lacks a good source of protein mostly leave me very unsatisfied afterwards, and I get hungry again shortly after. Fortunately, this cookbook has plenty of recipes with tofu, chickpeas, and other legumes, and the recipes that don't can easily be adjusted by adding some.
The book has a really nice layout, and the photos are appetizing. This cookbook can absolutely be recommended for any vegan, or anyone who wants to eat more plantbased.