I left home early Thursday morning, to catch the 8:30 flight to Oslo, where I would have a connecting flight to Dublin. After having run away from my coffee because I was booked into an earlier flight due to my original flight being cancelled, I had a centre seat at the flight making me feel a bit squeezed. I then had some time at Oslo airport, before I continued to Dublin. The flight was good, having lots of room, up until some person thought it was a good idea to spray perfume inside the plane. Needless to say, I got an allergy attack, but was thankfully moved to the front. The rest of the flight was spent trying to get back to normal.
I was met by corriganjc at the airport, and after a long and tedious journey to the hotel, I checked in, and got to relax a bit before we headed for food. We had lovely pizza at an Italian restaurant called Little Caesars, which according to corriganjc has the best Italian pizza in Dublin.
When in Dublin, do as Dubliners: Visit the pub! The pub called Against the Grain had been reccomended to me on Twitter, and it being fairly close to the hotel, we went there after dinner. It was a very friendly pub, with a smiling and helpful staff. It had an excellent atmosphere, and a wide range of good beer. I enjoyed the pub very much!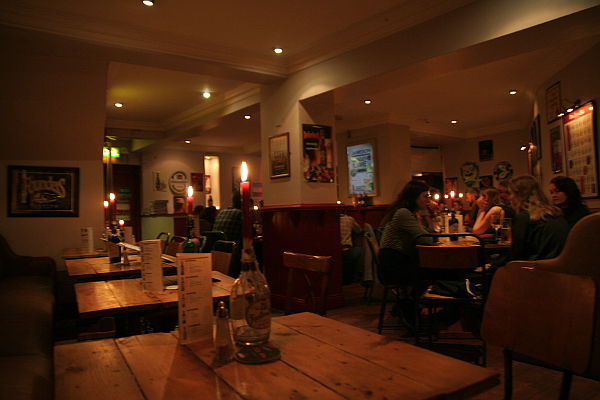 I woke up too early Friday morning, and after trying to go back to sleep, I gave up and got fed breakfast. I headed out for a walk after breakfast, and pretty much stumbled over a small park with some church ruins. It was very lovely. Turns out St Kevin's Park is listed as an area of historical and archaeological importance by Duchas. So that was a fairly nice start of the day.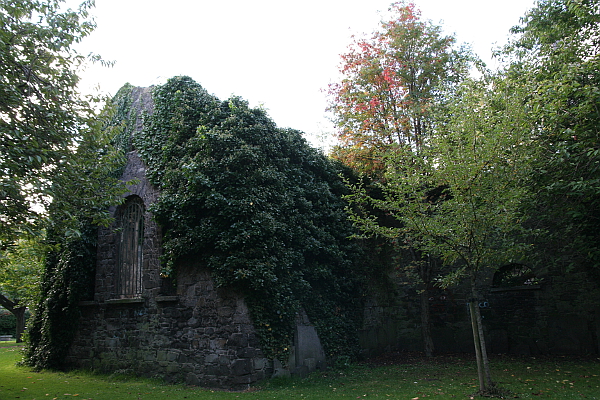 I had a nice rest after my walk, and dozed a bit before corrigan arrived, and we headed to get coffee at the Bald Barista. To be honest, I found it a bit disappointing, so I was very happy when we had hot chocolate at Butler's Chocolate Café later on. I had a yummy hot white chocolate, which came with a complimentary praline. Yummy!
We did a bit of walking after being full of hot drinks, and all of a sudden it was lunch time, and we ate at the vegetarian restaurant Cornucopia, which had some really lovely food. Well fed we headed to Dublin Barista School, which has the best coffee I've had in Dublin so far.
To get back to the hotel, we walked through St Stephen's Green, which is a lovely park. After a rest and some reading, it was time to register and get badges for Octocon, which will be given a post of its own.