When I woke up Wednesday morning, I was pleased I had managed to sleep a bit longer. I knew I wanted a proper breakfast, though, and headed to one of my favourite cafés in London. Mildreds used to be a vegetarian café, but since I was there last time three years ago, it has turned all plant based. I originally wanted to have scrambled tofu, but it turned out it contained lots of bell peppers, which make me ill. Instead I went for the sausage bap, with tomato chilli chutney, and a pot of tea. It tasted really good!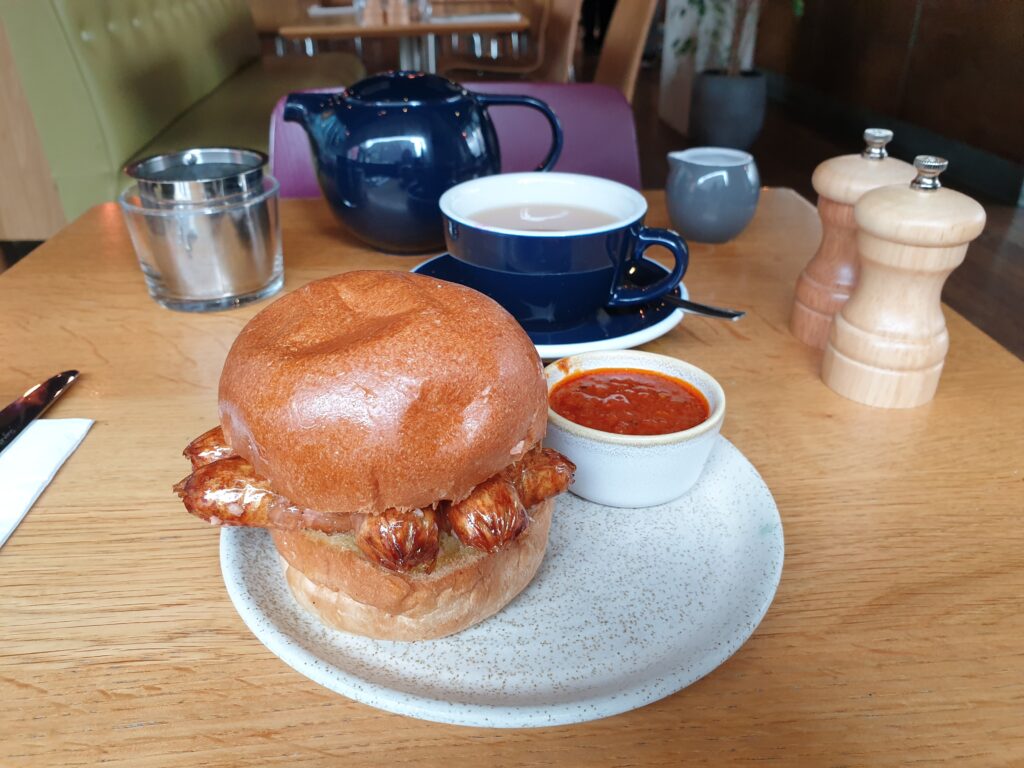 After being fed, I wanted some coffee. I went back to Origins, as it was close to Mildreds (and the hotel), to relax with my book.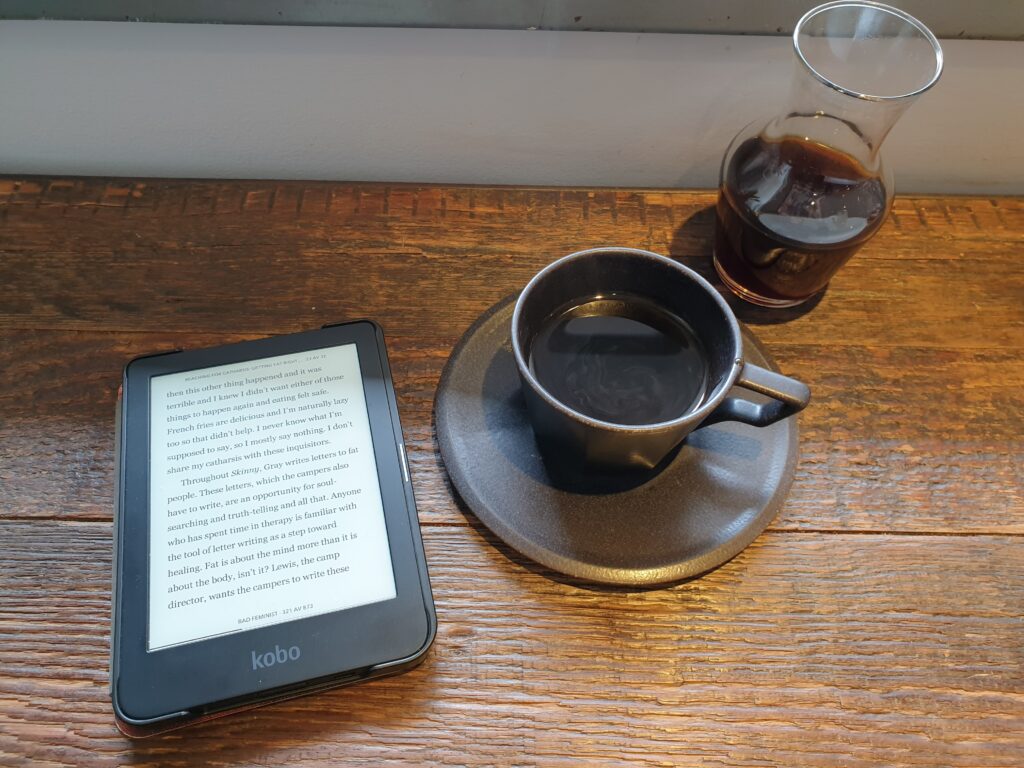 I decided I wanted to go to Camden. There are always lots to look at there, it being shops, people, or just even street art.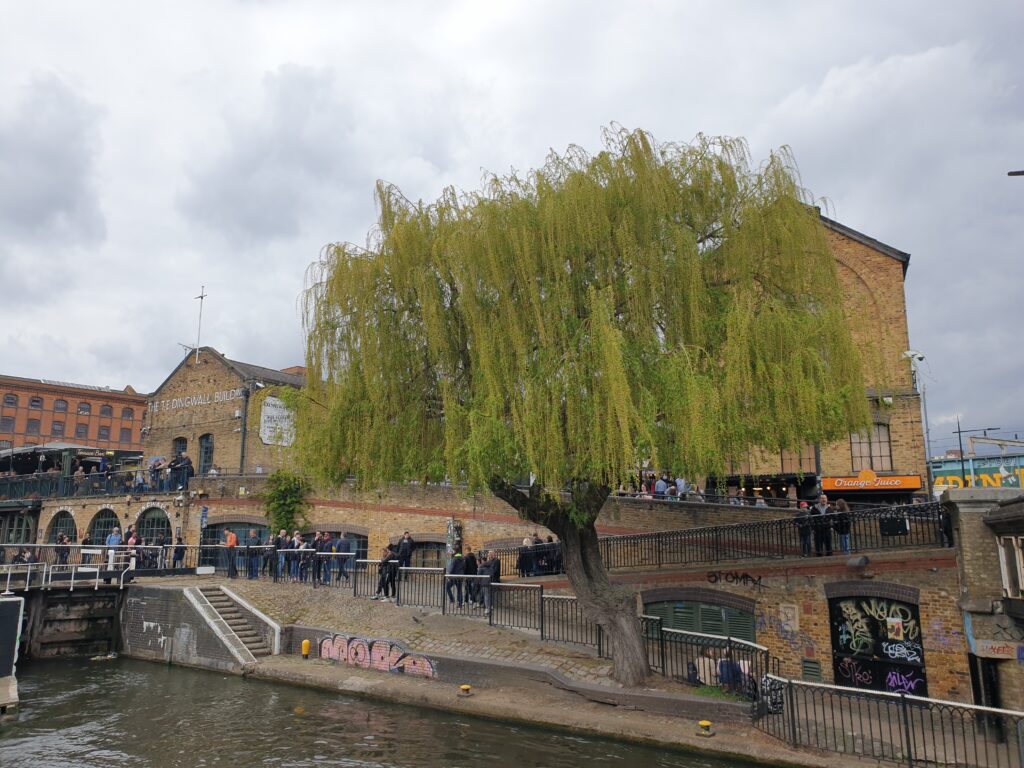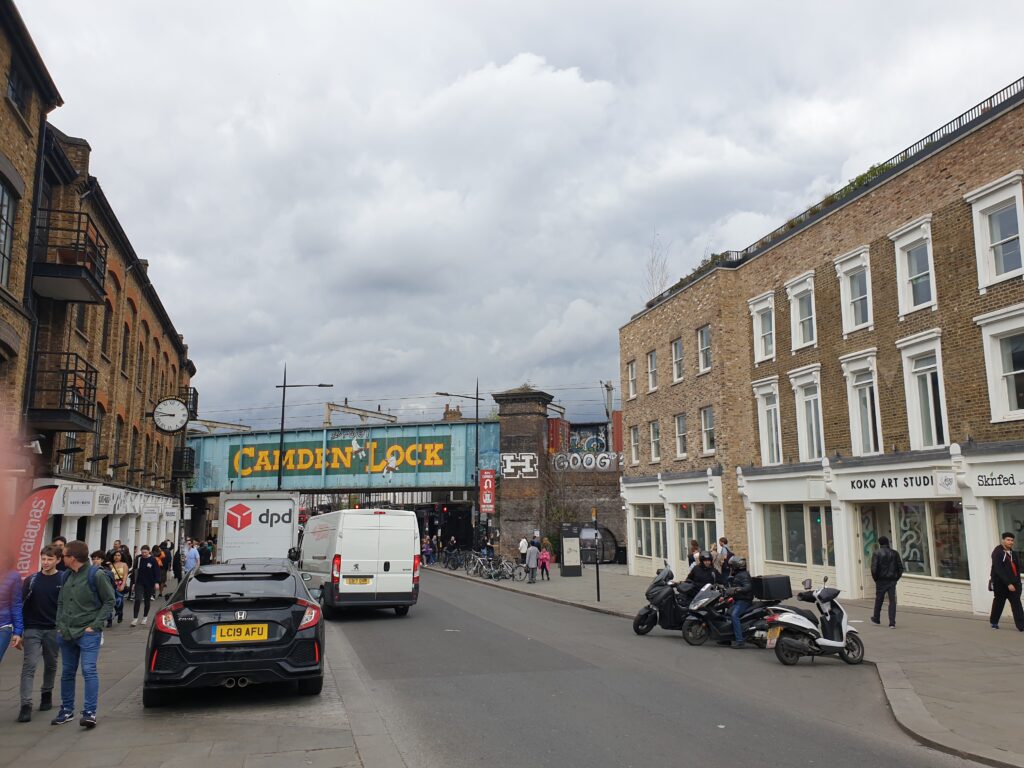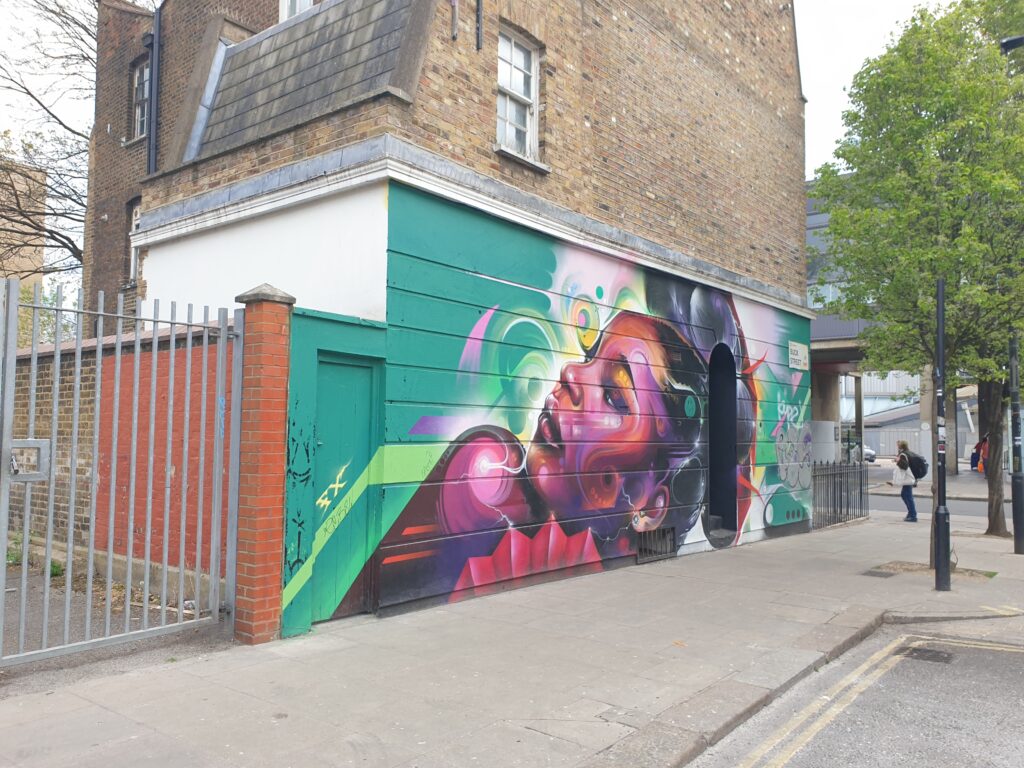 Walking around in Camden Town was pretty exhausting (I'm still struggling with tiredness after Covid), so I decided that relaxing in Green Park would be nice. Wednesday was the least sunny and warm day in London during my visit, but at least it didn't rain. And the park was surprisingly quiet, even though there was lots of people there. Green Park was not far from the Dukes, so that was also a good reason to pick that park to spend some time before heading for afternoon tea.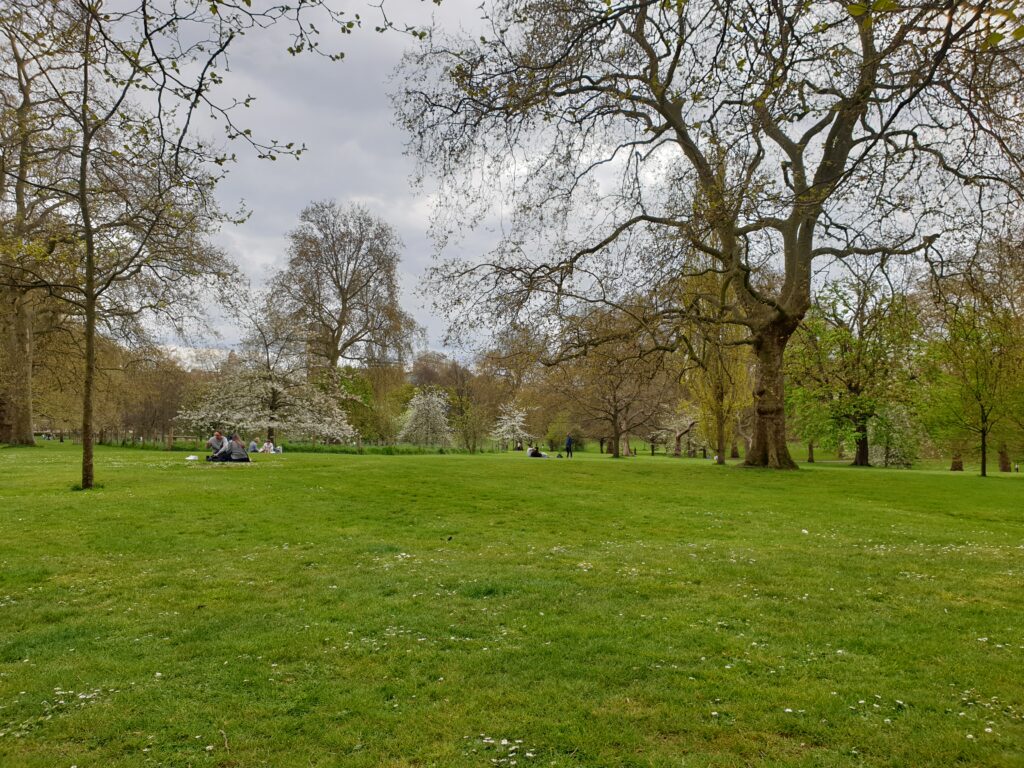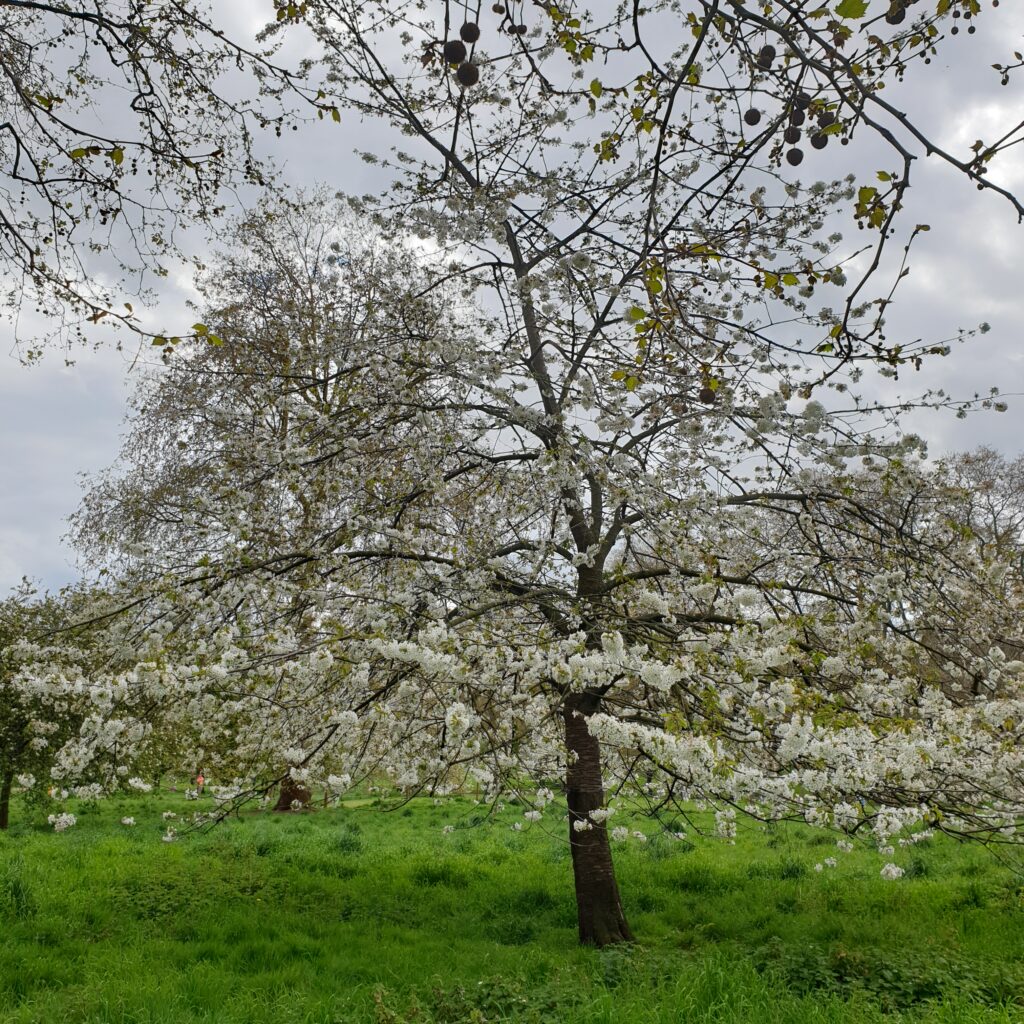 As I said in a previous post, I had booked at table at the Dukes. The hotel was in one of those small streets, hidden away from the city's hustle and bustle. It felt rather posh, and I had to wait in the entrance hall to be seated. The Drawing Room, where the afternoon tea was to be had, was decorated with blue colours, and had a small winter garden in the middle. There were plenty of big windows, that let the sun in.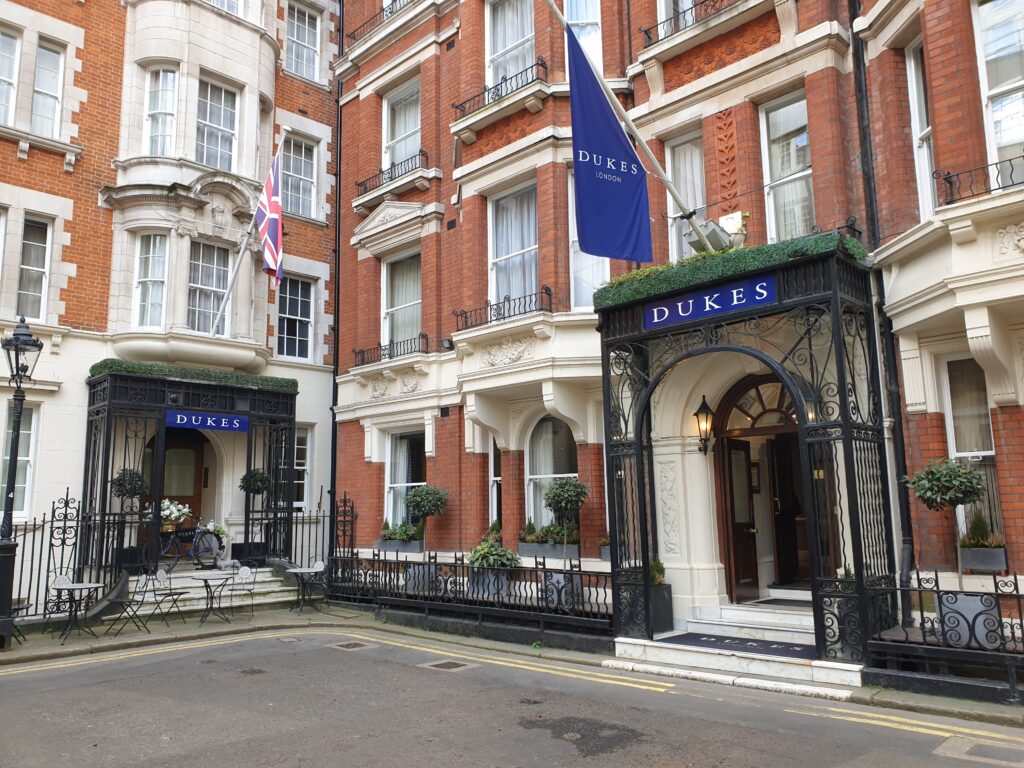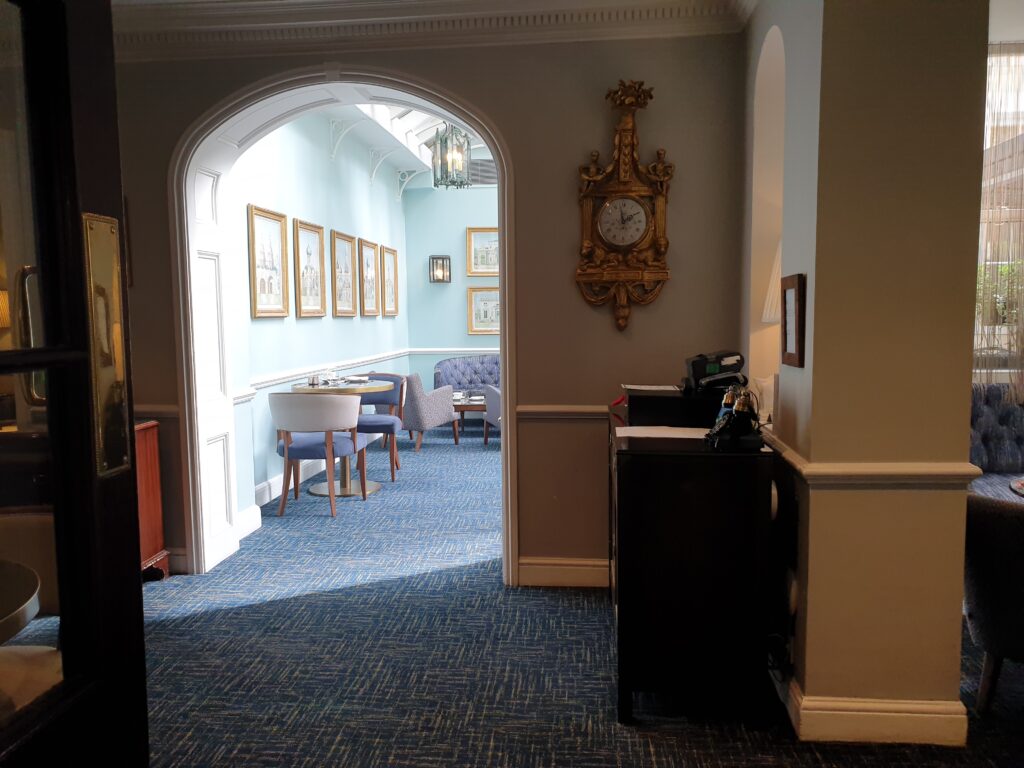 I had the vegan afternoon tea, and I went for a tea called Royal Flush. Like at many restaurants and cafés in London, I was asked about allergies, and due to the cinnamon and bell pepper allergies I have, my menu looked like this:
A Selection of Traditional Sandwiches:
Avocado hummus, pickled cucumber on beetroot bread
Vegan cheese, fig relish on white bread
Shredded cabbage, carrot & apple on granary bread
Grilled courgette, tomato tapenade on rye & onion bread

Sweets:
Pistachio & polenta cake
Beetroot and blackberry financier
Mango & cashew cheesecake
Brownie

Raisin scones & plain scones served with strawberry preserve & vegan clotted cream
The tea was really good, but I was slightly disappointed by the food. You would think a place like the dukes would put more effort into their vegan afternoon tea, but I wasn't impressed. A couple of the sandwiches were massively over salted, and out of the four, the vegan cheese and fig relish one was the absolute best. I didn't care too much for the cakes, except for the pistachio & polenta cake, which was lovely. The mango and cashew cheesecake was OK, but in my opinion, it should have tasted more of mango. The scones, on the other had, were lovely, even though it felt as if I was snowed down with icing sugar when eating them.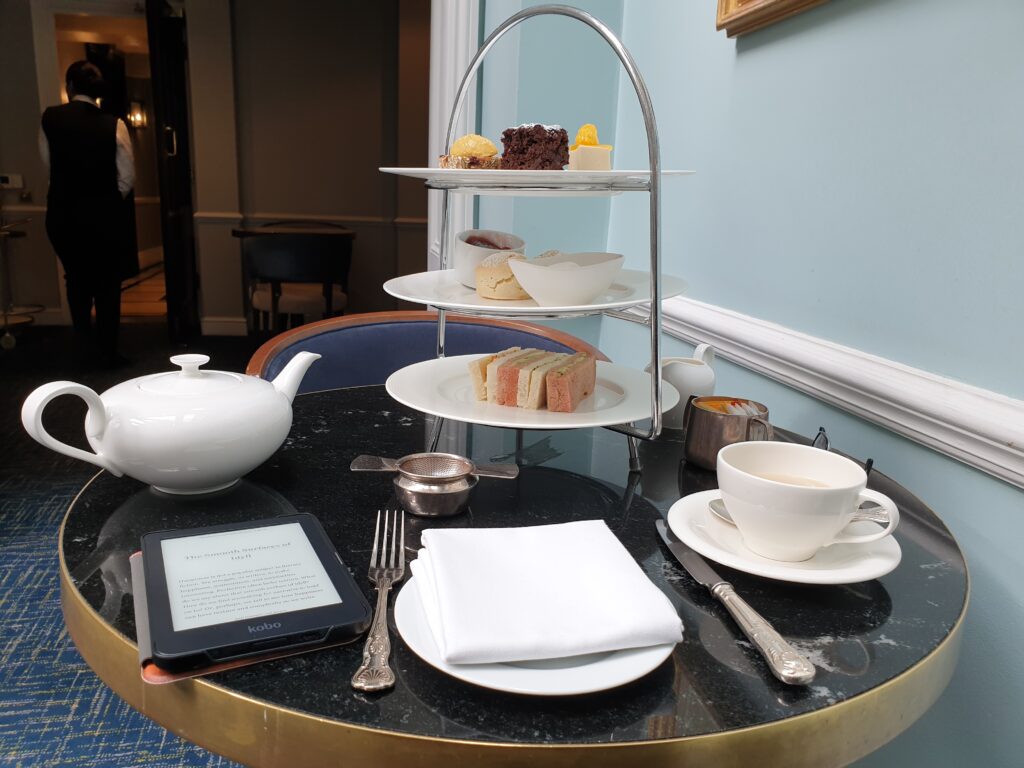 After having had the afternoon tea, I headed to Waterstones Piccadilly, where I were to meet up with Olivia-Savannah from the YouTube channel Olivia's Catastrophe. On my way there, I stopped by Hatchards Bookshop, where I just walked around. It's a pretty nice bookshop, and I even found some books translated from the Norwegian to the English there. (I didn't buy them, of course, I'd rather read them in Norwegian).
When I arrived at Waterstones Piccadilly, I felt really tired, and went up to the café on the top floor, where I had a glass of cider and read my book while waiting for Olivia-Savannah. I finished my cider after she arrived, and we headed to do a bit of book browsing. So many tempting books. And I didn't buy a single one!
We went to Shoryu Ramen for dinner, and had some really good food. I hardly ever find good vegan ramen, so I was very pleased. I had such a lovely time, and it was great to talk about books, food, and other random things you talk about. Time just flew by, and all of a sudden it was time to head back to the hotel. I got back by far later than planned, but it wasabsolutely worth it!