I felt like an early bird when my alarm went off this morning. The breakfast at this lovely hotel is complimentary (as well as a lot of other things), so I hasted to eat before it was over. After breakfast it was time to visit a place I've dreamed of visiting for a long while: New York Public Library.
New York Public Library is known to be one of the most beautiful libraries in the world, and that is not without reason. This is a truly beautiful place! Swarming with tourists, but still a beautiful library. And lots to see. Should you ever go there, be sure to have a couple of hours, at least, to spare!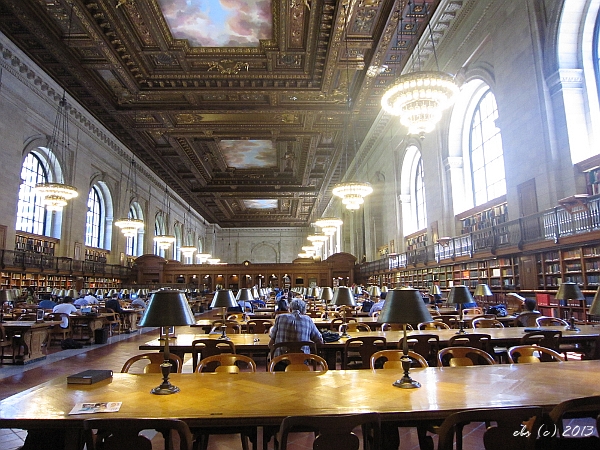 Unfortunately, the battery of my camera ran out while I was there, so I might go back to get some snaps of some things I wasn't able to photograph while I was there – like the real Winnie-the-Pooh stuffed animals! Yup, there they were: Pooh, Eeyore, Piglet, Kanga… It was lovely to see them!
After my trip to the library, I went back to my hotel room, as I needed to charge the camera battery. While waiting, I went to have a cup of complimentary coffee in the Reading Room. It was nice to sit there, reading my book, jazz playing, and having a rest.
My plan was then to visit the south of Manhattan. I wanted to do a couple of bookcrossing releases. From one spot to another, I came across a cookbook shop, and I just had to stop by. Turned out this was an independent bookshop, and I ended up having a lengthy chat with the owner about cookbooks, and independent bookshops in general. She was really sweet, and I found an interesting cookbook I just had to buy. I can hardly wait to use it!
My last bookcrossing release stop was 66 Perry Street. These stairs are known from the TV series Sex in the City, based on the book with the very same name. They are seen in several scenes in the TV series, and famous for being the stairs to Carrie's flat (she's the main character). As you might have guessed, the book I wanted to release here was exactly that book.
After releasing the book, I headed to Union square to take the underground back to the station right by my hotel. On my way there, I made several stops. There's a lot to look at! At Union sq. there were people playing chess and all sorts of things.
When I got back to the hotel, I popped by my room to drop my handbag, before heading back to the Reading Room, where they served complimentary sparkling wine and a selection of cheeses. It was so nice! After eating cheese and drinking wine, I went back to my room, as it was then quite late, and I was tired.