My main plan for this day was to visit the Pantheon, which is maybe 10-15 minutes of walking from my hotel. On my way I stopped to look at things, like the fountains I passed, some streetart, and so on. When I arrived at the Pantheon it turned out to be closed for tourists, as they were performing a Catholic service. I then decided to walk to see if I could find a café to sit down and read at.
Before I found a café, I found a gelateria. The gelaterias are something Italy is famous for: ice cream shops. I ended up buying a kiwi sorbet, which was very nice indeed. After consuming my sorbet, I eventually found a restaurant that served coffee, and I sat down, had an espresso and read.
After a while it was time to head back to the Pantheon, and after a bit of queueing, I was inside. "Pantheon" basically means "the temple of all gods", but today it's pretty much a Christian church (which I can't help feeling a bit sad about). The building is one of the best preserved ancient buildings in Rome, and inside it's circular. It's very beautiful, and worth a visit if you're in Rome.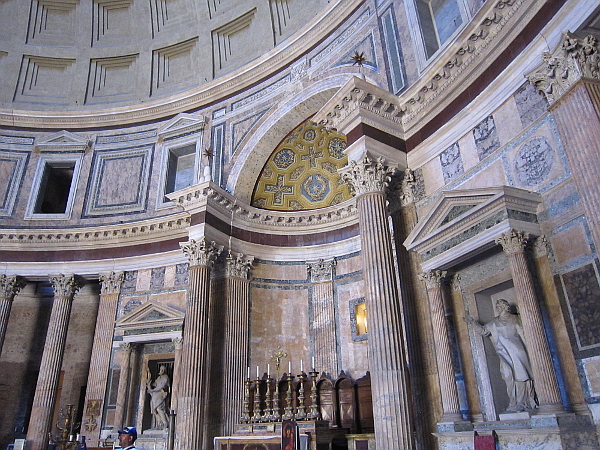 Since the famous Trevi Fountain isn't very far from the Pantheon, I headed there when I was done at the Patheon. This magnificent fountain was designed by the Italian architect Nicola Salvi, and is 26.3 metres high and 49.15 metres wide. The work on the fountain was started in 1732, but the architect Salvi died in 1751, before it was completed. When he died, the work was only half finished, so it was completed by Giuseppe Pannini in 1762.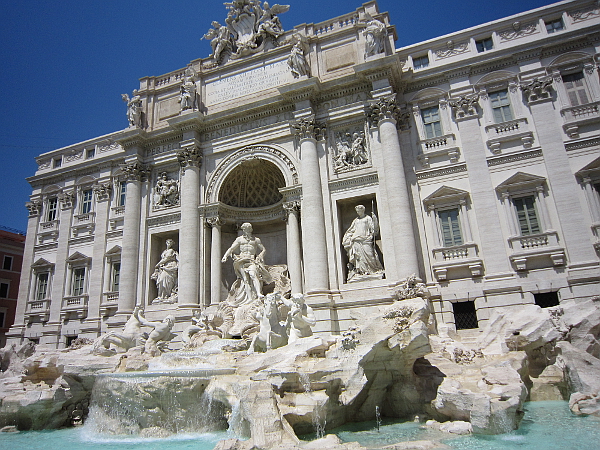 Watching the fountain was a hot affair, so I decided to head back to the hotel to cool off. Having relaxed for a bit, I walked around a bit in the neighbourhood. The hotel is close to the river, so I walked along that, among other things.
Eventually it was time for dinner, and I decided to have a pizza marinara (pizza with just tomato sauce, and no cheese) and a beer at a restaurant not far from the hotel. I ended sitting there with my book for a good while, before doing a bit more walking around.
All the walking around actually made me quite tired, so I ended up creeping under my duvet and read, before I fell asleep and had an early night.