I had a soft start of my day this day, and my first "task" was sitting outside at a café drinking espresso and writing postcards. The temperature was around +30°C, which felt beyond wonderful knowing that at home it was about +10°C and probably raining… Sitting outside in the shadow with coffee and postcards felt perfect!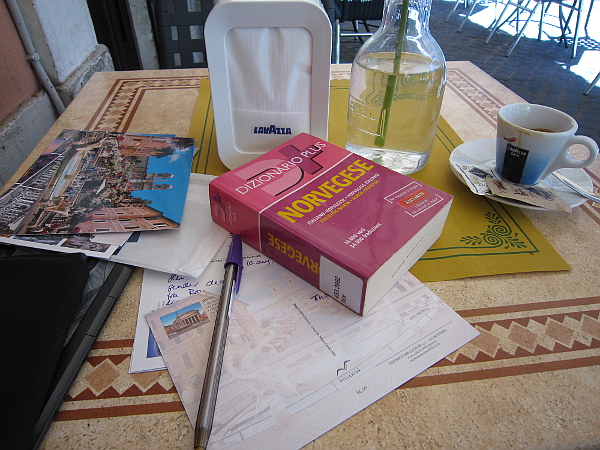 When I was done writing postcards it had gotten several hours since my breakfast consisting of fruits (the hotel isn't good at vegan stuff), and I went to Universo Vegano for a lovely and filling lunch. I had a Veghina Incas (wrap with quiona falafel, lettuce, vegan mayonnaise, tomatoes, and vegan cheese), and a vegan raspberry cheese cake for dessert. The meal kept me full for HOURS! Probably the best meal I've had in Rome so far!
Well fed, I went off to hunt down a post office. The first one I went to turned out to be closed. To my surprise, it closed by 13:25 – a very odd time in so many ways. So I had to figure where the next close post office was, which fortunately wasn't too far away. It turned out this was close to the Spanish Steps, so I went there to have a look. The steps themselves were closed off for rehabilitation, so I wasn't able to climb all the 135 steps this time. They were still beautiful, though, and the piazza with the nice fountain at the bottom was, needless to say, crowded with people.
The steps were finished being built in 1725, and were disigned by Francesco de Sanctis. The fountain the bottom of the steps is called Fontana della Barcaccia, which means "Fountain of the Ugly Boat". I find this a bit silly, as it's not ugly at all!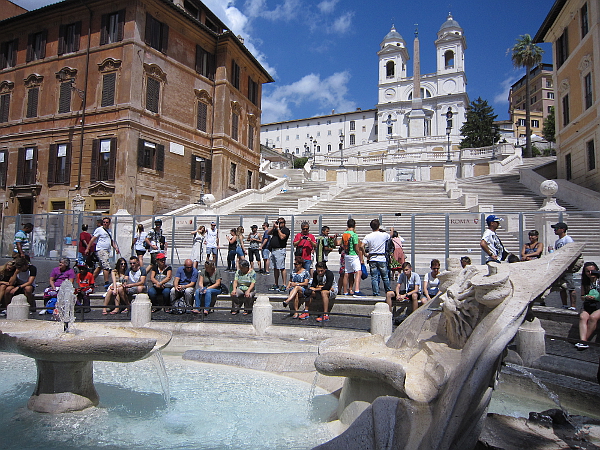 After looking at the steps, I headed back to the hotel where I read until it was time for me to have dinner. I had dinner at the raw vegan restaurant Écru, and had a nice meal there, before heading back to the hotel for an early night.