After having some busy weeks (months, actually) behind me, I decided I wanted to treat myself to a spa day. After searching around on Google, I came across a site, where I could buy different experiences online called TrueStory. They offer many different things, but I went for the wellness option, and picked Spa day at The Thief, as it seemed to be exactly what I was looking for. The package included a 50 minutes classical massage, entrance to the spa, fruits and tea, and a lunch at The Thief Foodbar. My reason for picking the spa at The Thief was both that it's supposed to be good, as well as the fact it's very easy for me to get there from where I live.
Buying the experiense went fine, and I got an e-mail with confirmation, codes and instructions. I'm not a person who likes to phone people, so I e-mailed The Thief, and told which day I wished for and referred to the information I had gotten from TrueStory. Fortunately, they e-mailed me back shortly after, and the day was booked. I made sure to tell them I was vegan, and had a couple of allergies. I had looked at their menu, and didn't find anything vegan. From experience, many restaurants are willing to make something vegan for you, if you ask on beforehand.
When I found out that the spa, which is actually located in another building behind the hotel, opens fairly early on Sundays, I decided to head there early in the morning. This, I found out, was a great decision. I had my appointment for the classical massage at 10, and had over an hour to enjoy the spa. And the best thing was: I had it all to myself!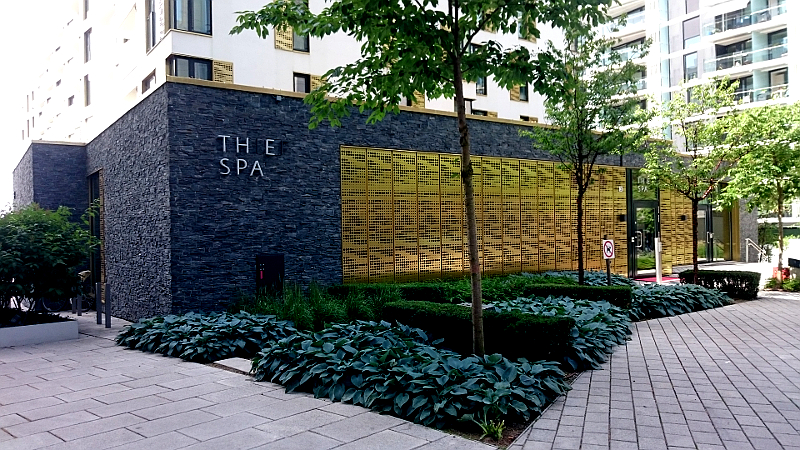 At arrival, I was handed a bathrobe and a big, fluffy towel. I went down to change into my swimsuit, and when I got back upstairs for the spa, the receptionist had made ready some tea and a fruit platter for me. That was very nice!
The spa was slightly smaller than I expected. I don't know why I had expected it to be larger, but for some reason I had. However, it had what a spa needs. A steam bath, a Finnish sauna, a swimming pool, and tropical showers. It was very relaxing, and I got tea, coffee, and fruits. Water was aviable from a tap.
Unfortunately, but understandable, no cameras were allowed into the spa, so I have no photos from inside the spa itself. There was an area right outside the wardrobes, though, where they do misc. treatsments, like manicures and facials. It looked very nice and fresh to me, even though I wasn't having any such appointment.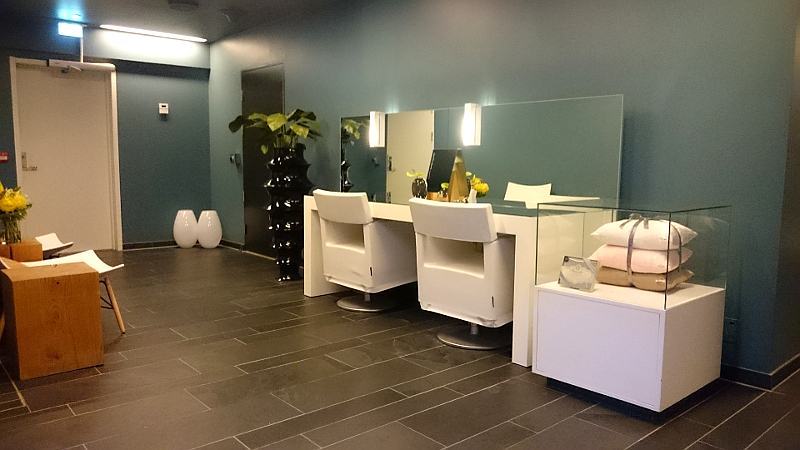 The classical massage was really nice, and just what my aching body needed! Getting there, I was handed one of this "neat" single use knickers to use. I can't say I thought they were neither nice looking nor comfortable to wear, but they did their job. The massage therapist really knew what they were doing. I was asked how I preffered my massage, and the preassure was really perfect. The 50 minutes just flew by.
I was given a new robe and towel after the massage, as wel as a scrub to be used in the steam bath. The spa still wasn't too crowded, and I relaxed with a cup of coffee and the free to borrow newspaper, as well as enjoying the spa facilities, before heading to the hotel for my included lunch.
The restaurant was situated on the roof on floor 9, and had a really nice view over the fjord. It looked nice too, and the staff friendly. I had to repeat that I was a vegan, and I was, needless to say, excited to see what the chef would come up with. The Thief restaurant is said to be a good high end restaurant, but unfortunately, for me it just didn't deliver.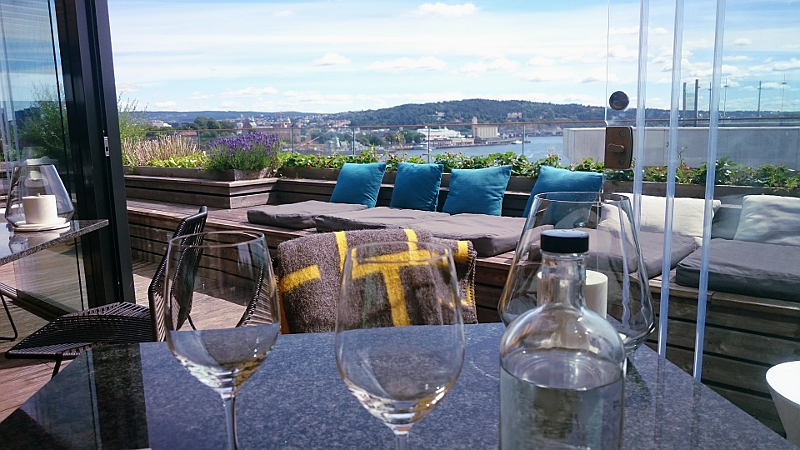 Being served a salad at lunch I find a but boring and uninventive, to be honest. In addition, it was mainly beets. People who know me well enough, know that I really dislike beets (they taste of dirt to me). In adition, it was not vegan when it was served. The cheese itself was a visible and given non-vegan item. I sent it back, but I think they just picked it out and gave me the same plate. This is not something I expect from a high end restaurant. I also suspect some othe other stuff on the plate was non-vegan, and though I tried to avoid the more creamy things, it wasn't easy. I normally don't mention my "other" food intolerances/allergies when I ask for vegan food, as they're non-vegan foods (like cow's milk). I actually ended up getting ill shortly after leaving the restaurant. I skipped dessert, to be honest, I don't think they would have anything I could eat, and I was staring to feel unwell.
Would I recommend people to use TrueStory? I would. You can get good deals by using their package solution. They have a ølot more to offer than their "Wellness" category. If I had a wish, it would be that I could have a spa package where there was no meal included.
Would I reccomend people to visit The Thief? The spa, and absolute yes for from me. It was such a nice and relaxing day I had there. As for the restaurant, I would say no. I wasn't pleased at all by how they treated a vegan guest, and I'm not likely to visit ever again.
This is in no way a sponsored entry, I payed for everything and did all research etc. myself.