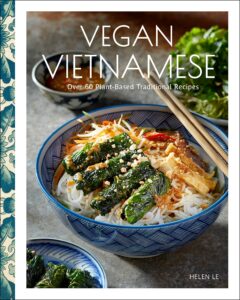 I can't deny it: I'm a sucker for vegan Vietnamese food. Actually, one of my favourite take-away restaurants is Eat Happy Vegan here in Oslo, Norway. When Netgalley offered the cookbook Vegan Vietnamese – Vibrant Plant-Based Recipes to Enjoy Every Day, written by Helen Le, to review, I was not hard to ask. I had no knowledge of Helen Le before seeing the book on Netgalley, and had no knowledge of who she was or what she did.
I quickly learned that Helen Le is the creator of a popular Vietnamese cooking channel on YouTube called Helen's Recipes. So before even looking at the recipes I wanted to check out her channel. It turned out that her channel is not at all vegan, and she's not a vegan herself. This normally turns me a bit sceptical towards someone's cookbook, but I decided to check it out with an open mind.
I use cookbooks mainly for inspiration, and hardly ever follow recipes. Though the book was nice enough looking, I never felt like any of the recipes pushed me to cook anything. I kept thinking "I should probably find a recipe and make something like it", but I never did. Also, in my opinion, it was quite clear that it was made by a meat eater. It had lots of potential, but for me it didn't make the right fit. I'm sure others, especially meat eaters looking into cutting down on their meat, will find it helpful. It for sure has it's audience, I'm unfortunately not among them.